AB €150 VERSANDKOSTENFREI | 5 % WILLKOMMENSRABATT MIT DEM CODE "WELCOME"
smooth. tame the strays™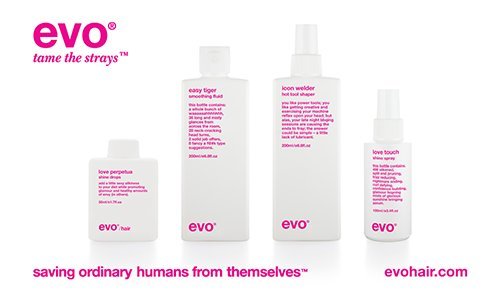 Die Haarpflege-Serie smooth. tame the strays™ von evo® hair glättet und kontrolliert krauses, widerspenstiges und coloriertes Haar. Die in den evo® Products enthaltenen Wirkstoffe Dimethicone und Glyzerin versorgen das Haar mit Feuchtigkeit und sorgen für einen unwiderstehlichen Glanz. Das Haar wird geschmeidig und ist so leichter zu kämmen. Frizz wird reduziert und die Leuchtkraft der Farbe geschützt. Diese Serie von evo® hair besteht unter anderem aus evo® Shampoo, Conditioner, Leave-In Behandlung und einem Styling-Balsam. Entdecke evo® hair!